Everyone loves to grow their own produce. But many gardeners don't have the space for more gardens. How can you have edibles and a beautiful yard, too?
Foodscaping! Join me at my Foodscaping webinar. Webinars are a great way to see and hear and see me speak without leaving the comfort of your own home!
Join me for my Foodscaping Gardening Webinar on
February 1st, from 7 to 8:30pm EST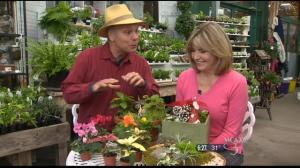 What is Foodscaping?

Foodscaping is another way of saying edible landscaping. It's a way to grow vegetables, fruits and herbs in your yard that are beautiful and edible too. In this webinar I'll talk about places in your yard to grow foodscape plants besides the garden. I'll talk about designs principles to make it look beautiful. And I'll share some of my favorite flowers, veggies, herbs, berries and trees and how to grow them. Plus, you can email me with your questions and I'll incorporate those in my presentation as well.

You'll learn about:
Where to grow foodscape plants in your yard
How to substitute ornamental plants with foodscape plants and not sacrifice beauty
Some design techniques to make your foodscape more beautiful
Examples of some foodscape yards
My favorite veggies, flowers, herbs, berries and fruits for your yard
This hour-long presentation will be followed with a ½ hour of questions and answers where I'll be able to help you individually with your gardening situation.
Here's a 3 minute Sample from my 2017 Spring Gardening Webinar to review:
Testimonials from the Spring Garden Webinar:
This was a great webinar! Thank you. I picked up a few good tips and you also helped to confirm a few things I've been doing right! Adding the garden story (humor), (or history, or experience) was an interesting addition to the webinar.
I really enjoyed this webinar and learned a lot! I thought it was well-organized, the delivery was great, and the time flew by – could have easily filled another hour.
Loved it! Great comprehensive coverage of topic. Excellent choice of visuals to highlight topic
What You Get:
Attendance to the Webinar on February 1st.
The webinar will be recorded so you'll have the chance to watch the talk again whenever you want. All registrants will receive a link after the webinar to view the presentation at their convenience as many times as they like. You do NOT have to be present on February 1st.

Handout of the plants and varieties I'll talk about during the webinar

Q/A time with Charlie
Register by January 15th, 2018- $9.99
Between Jan. 15th and Jan. 31st- $11.99
Save
Save
Save
Save
Save
Save
Save
Save
Save
Save
Save
Save