Charlie's Mid June Newsletter
All About Pollinators, Pest Control Webinar, New Hydrangeas, and Still Room on the Bus
Happy solstice next week. Yes, it's summer now and the plants are responding to the longer, warmer days as expected. But so are the pests. Cabbage worms on the broccoli, slugs on hostas, deer in the raspberries…. need I say more? If you're struggling with any insect, disease or animal pests, come to my Organic Pest Control Webinar on July 19th. You don't even have to be present on the 19th to get the information. Find out more in this newsletter.
Pollinators are hot and I'm loving watching the bees, butterflies and hummingbirds dance among my flowers and herbs. I'll talk about starting a pollinator garden and show a video on the basics. Check it out.
Hydrangeas are enjoying a renaissance and I talk about some of the best new varieties in my video. Plus, you'll learn about caring for them all, including the elusive blue hydrangea.


Finally, my bus tour of the Gardens of the Philadelphia Area from July 21st to 25th is almost full, so I'm throwing out a last pitch for those that are interested in signing up. We'll be visiting Longwood Gardens, Chanticleer, Morris Arboretum and many other gardens. One of the stops will be Burpee's Fordhook Farm. I talk about that visit here as well.
So enjoy the high summer and until next time, I'll be seeing you in the garden.
Charlie
---
Where to Find Charlie: (podcasts, TV and in-person)
---
One of the big trends in the last few years in gardening is the interest in pollinator gardens. With all the press that honey bees and monarch butterflies are getting, many groups, farmers and individuals are trying to help the cause to save the pollinators. It's not just a nice idea. Bees and their friends pollinate 1/3rd of our food supply. Every garden, no matter how small, can help.
When planning a pollinator garden find a location in full sun with fertile soil. Consider a spot close to the house so you can enjoy the show, too. Plant a range of flowers that bloom from spring through fall so the pollinators have a consistent nectar and pollen source. You can create a separate garden for pollinators or plant a wildflower area with Pollinator Seed Mixes that are filled with annual, biennial and perennial flowers that pollinators love. You can even buy regional wildflower pollinator mixes that feature native plants to that area.


Another method is to introduce pollinator friendly flowers into your existing garden. There are many flowers and plants that are helpful to pollinators. Find native or species versions of flowers for the best pollen and nectar. Sunflowers, such as 'Mammoth', 'Soraya' and 'Autumn Beauty' are attractive to honey bees, bumblebees, carpenter bees, and sweat bees to name a few. Flowering Thyme and catnip will attract mason bees, digger bees, sweat bees and bumblebees.
Pollinator gardens aren't just about flowers, though. Bees, butterflies and hummingbirds need water, shelter and nesting locations. Don't forget to plant vines, shrubs and evergreens as places where pollinators can hide. Add water sources such as bird baths. Leave snag trees and wild areas for pollinators to nest.
Watch my video and listen to my podcast for more on creating pollinator gardens. You can also join the Million Pollinator Garden Challenge to start pollinator gardens around homes, schools, and public institutions in your town.
Webinars are a great way to get good gardening information when and where you want it. I'm offering an Organic Pest Control webinar on July 19th from 7 to 8:30pm Eastern time for those gardeners needing a little help with specific pests. The beauty of webinars is you can enjoy them from your home and participate in the live Q/A session after the one hour talk is finished. Even if you can't be there on July 19th, all those who register will get a link to the recorded webinar a few days later to watch whenever you want, as many times as you want.
Since I know there are many pests that plague gardeners, I'll be polling those gardeners that register to find out their biggest conc
erns and make sure I talk about those in my talk. Plus, you can ask specific questions about your garden and landscape during the webinar.
Check out my video on deer control as an example of what we'll cover.
The early bird registration discount ends July 1st, so sign up now while you're thinking about it. This could be a good way for you to thwart a problem that's started or stop a future insect, disease or animal attack before it happens.
Get more information and sign up for the Organic Pest Control Webinar here.
Hydrangeas are hot again. We all are familiar with the blue hydrangeas, Annabelle snow ball hydrangeas and 'Pee Gee' panicle hydrangeas. They have been gracing gardens and yards for decades. But there are some new kids in town that make hydrangea growing easier and more versatile. The 'Invicibelle Spirit II' hydrangea is an Arborescens type (like 'Annabelle'), but instead of a fluffy white flower it produces a pink one. Also, the flower stems are stiffer than old fashioned varieties so the open flowers are less likely to flop over. Panicle hydrangeas produce flowers on new growth that grows in spring and blooms from mid summer until frost. Older varieties, such as 'Pee Gee', grew into large bushes or small trees. For a tamer shrub, try the new 'Bobo' with white blooms and 'Little Quick Fire' with pink colored flowers. These only grow 3 to 4 feet tall and wide and fit in smaller spaces and containers.
Blue hydrangeas have been a challenge for many northern growers. 'Endless Summer' was suppose to be the savior of frustrated cold climate blue hydrangea growers because it blooms on old and new wood. Even if it died back to the ground in winter, the new wood would eventually grow and flower. But many gardeners noticed the flowers formed very late or not at all. I talk about blue hydrangea care in my video and podcast. Check those out.
Newer varieties of blue hydrangea are suppose to be tougher and more reliable. 'Bloomstruck' is a hardier selection with good disease resistance to powdery mildew.  It may be worth a try in your garden.
For more on these new hydrangeas and care for the blue ones, go to my video and podcasts.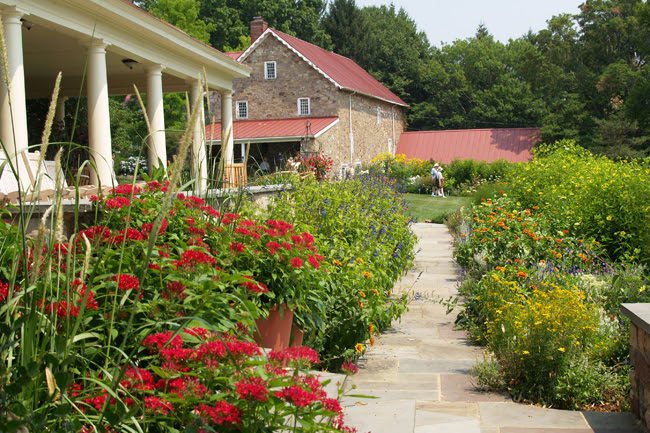 One of the stops on my upcoming Gardens of the Philadelphia Area tour from July 21st to 25th will be the historic Burpee Fordhook Farm. Burpee Seeds is familiar with any gardener that has grown flowers or vegetables. It's been around since 1888 and Fordhook Farm is the breeding and trial ground where many of those famous Burpee varieties, such as 'Big Boy' tomato and 'Iceberg' lettuce, were born.
As part of our trip, you'll see a variety of gardens, including woodlots with shade perennial gardens, full sun annual and perennial gardens, ornamental gardens, container gardens and, or course, vegetable gardens. You'll get a sneak peek at some new varieties in the pipeline for the future and have the opportunity to ask questions about growing many of the standard varieties. You can also find out more about the intricacies of the seed business.
So, join us by signing up for the Gardens of the Philadelphia Area. Not only will be touring Fordhook Farm, we'll visit the amazing Longwood Gardens and Chanticleer Gardens among many other gardens.
Find out more about the trip here.
Sponsored by:

Save Save Save Save Save Save Save Save Save Save Save Save Save Save Save Save Save Save Save Save Save Save Save Save Save Save Save Save Save Save Save Save Save Save Save Save
Save
Save
Save
Save
Save
Save
Save
Save
Save
Save
Save
Save
Save
Save
Save
Save
Save
Save
Save
Save
Save