Charlie's Early April Newsletter
The Other Irises, Purple & Orange Tomatoes, Cilantro and Longwood Gardens
Rumor has it that April through June there is going to be above average temperatures for the Northeastern US. I'm ready for it. After the snow has finally melted, it's time to dive into the garden in earnest.
One early perennial that's a staple in many gardens is the iris. Although most gardeners grow the bearded iris, I thought I'd talk about a few other types that are worthy of some attention.
Speaking of attention, look at the amazing colors on some of the heirloom and new hybrid tomatoes. There are so many tomato varieties to choose from I thought to highlight some of my favorites in the purple and orange color range. Check it out!
Cilantro is one of those herbs that's easy to grow, self-sows readily and is a beneficial insect magnet in the garden. Too bad some gardeners, like my wife, don't like the flavor of it. For those that do, I talk about growing it here.
You probably have seen in my previous newsletters highlights of the garden bus trip we have planned for this summer to the Gardens of the Philadelphia Area from July 21st to 25th. We'll be seeing some famous gardens in full bloom and I thought to highlight Longwood Gardens in this newsletter. Consider joining us on this fabulous trip.
Finally, my Spring Garden Webinar on Small Space Edible Gardening is filling up nicely. Thanks to all those who have signed up for my first webinar. There still is plenty of space available, so check out the details of this webinar. It's great. You simply turn on your computer on April 20th at 7pm Eastern time, log onto the webinar website and I'll give an hour-long slide show and talk on small space edible gardening followed by 30 minutes of Q/A. It will be recorded so even if you miss the event, you'll be able to watch it later. All those who attend also will get an exclusive link to 8 of my latest gardening videos on topics such as Bird Protection, Pollinator Gardens and Harvest Vegetables. Learn more and sign up here. 
I'm off for more talks around the country. So until next time, I'll be seeing you in the garden.
Charlie
---
Where to Find Charlie: (podcasts, TV and in-person)
---
While there are hundreds of species of iris grown around the world, probably the most popular in our country is the bearded iris. They are stunning plants and breath taking when in full bloom. But I've been dappling in some of the other types of iris available such as Siberian, Japanese and Louisiana. Here are some varieties to try. Japanese iris flowers look like butterflies floating above the foliage. They grow in clumps on moist, slightly acidic soil. Try selections such as the purple and white edged 'Crystal Halo' and the yellow throated 'Pink Lady'.
Siberian iris are also hardy and grow in clumps. They have smaller flowers than the bearded and Japanese iris, but are beautiful and tough. Many Siberian iris flowers are in shades of blue or purple. But 'Butter and Sugar' is unusual for its yellow and white colored blooms. 'Pink Parfait' has a unique, double petaled blossom.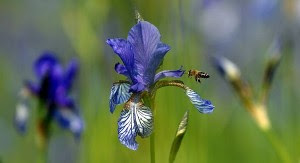 'Concord Crush' features large, double petaled blue flowers growing on 2 foot tall plants.
You don't have to live in the South to grow Louisiana irises. These plants are hardy to zone 4, part shade tolerant and feature bold colors. 'Bold Pretender' has vivid red flowers with a yellow center. 'Black Gamecock' has 6-inch diameter, deep purple, velvety blossoms. Louisiana irises grow well in wet soils in part shade and are deer resistant. Hummingbirds also love these iris flowers.
Check out these different species of iris for your garden. For more on growing iris, go here. 
We all know tomatoes are the number one vegetable grown by gardeners. With the infusion of heirloom varieties over the last 25 years, there are so many choices it can make your head spin. Each year I try a few new varieties to grow along with my tried and true ones. Invariably, I experiment with different colored varieties. I could write a whole newsletter on tomatoes, and maybe I should one day. But today I'm just going to focus on some cool purple and orange varieties.
Purple tomatoes not only are stunning to look at and tasty to eat, they're loaded with anthocyanins which are good for your health. 'Cherokee Purple' is an heirloom I've grown many times before (see photo). I love the large, round ,reddish-purple colored fruits with green shoulders and the juicy fresh. It's one of my favorites for flavor.  The newer Indigo series features dark purple skinned fruits with red flesh. I've tried 'Indigo Rose' and 'Indigo Apple'.  On the purple to brown colored tomato scale I like 'Black Cherry' for its earthy flavor and 'Black Krim'. These varieties don't have the same sweetness as we'd expect from other tomatoes, but I like the deeper tomato flavor.
Orange colored fruits shine in our garden. 'Tangerine' is a bright orange variety with sweet flesh. It most looks like citrus. 'Jaune Flame' is like a bigger version of 'Sungold' cherry tomato. Need I say more? 'Sunrise Bumblebee' is in a new series of colorful fruits. I love the orange fruits with pink streaks on this cherry tomato. There are purple and pink versions as well. On the other end of the spectrum is 'Yellow Brandywine'.  This heirloom looks similar to the original Brandywine, but has yellow-orange flesh that's lower in acid.
When selecting varieties for your garden, look at the ultimate size of the plants and have trellises and supports ready for the indeterminate types. Space them well apart and mulch to slow down leaf blight diseases. Don't be in a hurry to plant outdoors. Let the soil warm up to 60F so when you do plant, they will take off.
For more on growing tomatoes, go here.
Cilantro is one of those herbs you either love or hate. Some people say is tastes like soap! There's a genetic reason for that. It's estimated that 17% of people with European or East Asian ancestry and 14% of people of African descent say cilantro tastes like soap. I guess it's all in the genes. Too bad. I love cilantro in soups, salads, stir fries and casseroles.
Cilantro couldn't be easier to grow. Sow seeds after all danger of frost has past or start transplants indoors under lights. Cilantro likes cool weather so plant in early spring, but protect the plants from frost. Hot weather makes the plants bolt quickly. That's not all bad though. The white flowers attract beneficial insects and eventually turn into coriander seeds. If you don't harvest the seeds, cilantro will self sow and you'll get another crop later in the summer. Oh, and those seeds will overwinter, too. I haven't planted cilantro for years because it keeps self sowing around our garden.
There are some good varieties to grow that are less likely to bolt quickly. 'Slow Bolt' and 'Caribe' are two good choices. Cilantro is often associated with Mexican cooking and salsa, but it is also essential to many Asian dishes. 'Bac Lieu' is a Vietnamese cilantro that has a milder flavor with a citrus twist.
Go here for more information on growing cilantro.
On our summer Bus Tour of the Gardens of the Philadelphia Area, we will stop at some of the most beautiful public gardens in the United States when they're in full bloom. It will be a unique opportunity to see so many gardens in a few days.
One the jewels and highlights will be Longwood Gardens. This 1000 acre former Du Pont Estate is filled with woodlands, meadows, formal gardens and water gardens.
The children's garden and idea gardens give all gardeners inspiration for growing more of their own plants at home. There are plants from around the world set in thematic gardens around the grounds. Even in bad weather there's much to do.
There are 20 indoor gardens in 4.5 acres of conservatories.
Many know Longwood Gardens for the amazing fountain display. Recently renovated, the 1700 water jets put on a spectacular show with music and lights. This garden is truly a masterpiece of horticulture and culture and not to be missed.
Join us on this special Garden Bus Tour to the Philadelphia area July 21 to 25th, 2017.
Sponsored by:
Save Save Save Save Save Save Save Save Save Save Save Save Save Save Save Save Save Save Save Save Save Save Save Save Save Save Save Save Save Save Save Save Save Save Save Save
Save
Save
Save
Save
Save
Save
Save
Save
Save
Save
Save
Save
Save
Save
Save