Charlie's Mid May Newsletter
Attract Butterflies & Pollinators, Quirky Cukes, Safe Slug Controls and A Million Pollinator Garden Challenge
The early morning hours are always a delight this time of year. The birds are singing wildly as they feed and build nests, the light on the garden is gorgeous and the insects haven't quite awakened, making it a good time to garden. I'm not against insects, in fact, we need them, as do the birds and other wildlife. But there certainly are insects and creatures that are more important to our food supply than others. These pollinators include birds, flies, bees, butterflies and many other wildlife. I talk about creating gardens to attract these to your garden. I also highlight the Million Pollinator Garden Challenge. This is a national movement to encourage everyone to grow a pollinator garden creating one million more pollinator gardens to help these important creatures.
Then again, there are some creatures I'd rather not have to deal with. In the Northeast we've had cool, wet weather recently which is perfect for slugs and snails. I talk about safely controlling them here. And finally I chat about some unusual cucumber varieties. These quirky cucumbers are different looking, but still tasty. I highlight some of my favorites here.
Also, there's still space on my garden bus tour to the Gardens of the Philadelphia Area from July 21st to 25th. This tour is a good way to visit some of America's best gardens, such as Longwood Gardens and Chanticleer, while they are in full bloom. Check it out and join us.
So until next time, I'll be seeing you in the garden.
Charlie
---
Where to Find Charlie: (podcasts, TV and in-person)
---
We all love seeing butterflies, hummingbirds, honey bees and bumblebees working our flowers. But they not only are beautiful to look at, they are important for our food supply and the diversity of plants in our environment. We can help attract these beauties to our garden by planting certain flowers that have pollen and nectar they need. One of the classics is the butterfly weed. You can grow the traditional butterfly weed or Asclepias and buy milkweed relatives, such as the swamp milkweed, that butterflies also love. For vines, grow honeysuckle and trumpet vines with their tube-shaped flowers that attract hummingbirds. In the perennial flower garden plant a selection of flowers that bloom from spring until fall. Flat-shaped flowers, such as echinacea, yarrow and asters are pop
ular and favorites of bees. Allow some edible plants, such as fennel and dill, to go to flower for their beauty and to attract bees and beneficial insects.
Insects and birds need more than pollen and nectar to survive, though. They need shelter, water and nesting areas. Integrate shrubs, grasses, small trees and evergreens into your yard for hiding places for these creatures. Have a small pool, bird bath or even a muddy hole in the garden for water. Leave nesting materials, such as old hay, around for them to use. All of these techniques will help encourage pollinators and butterflies to come and stay in your yard. Hopefully, they will reproduce and create more pollinators for the whole neighborhood.
For more on growing a pollinator garden, watch my video.
Many gardeners love growing slicing and pickling cucumbers. They are a great summer treat, cooling us off with their juicy, crunchy texture and mild taste. Most gardeners think slicers and picklers are the only two options for cucumber types, but other varieties expand that idea.
I first grew 'Lemon' cucumbers a number of years ago and it still finds a way into our garden each year. These round, pale, yellow skin colored fruits are prolific. They produce crunchy fruits that are best eaten when young. They don't have a lemon flavor however.  'Boothby Blonde' is another yellow skinned type but has a more traditional cucumber shape. 'Silver Slicer' is a light colored variety with thin skin and grows into a regular sized slicer.
'Poona Kheera' is an Indian cucumber variety that features gol
den colored skin that browns with age. It's best eaten at the golden stage. It produces large fruits that are tasty eaten with spicy Indian food.
Plant cucumber after all danger of frost has passed. Mound up the soil into hills or raised beds. Amend the beds with compost. Cucumbers like a warm, well-drained, fertile soil. Thin to 1 foot apart and provide a trellis for the vines to grow on. Cucumbers grow best on the trellis set at a 45 degree angle. Side dress cucumbers monthly with an organic fertilizer. Encourage bees to pollinate the flowers by planting bee loving plants near your cukes. Control cucumber beetles by hand picking, using yellow sticky traps and organic sprays. Harvest fruits when young to encourage more production.
For more on growing cucumbers, go here.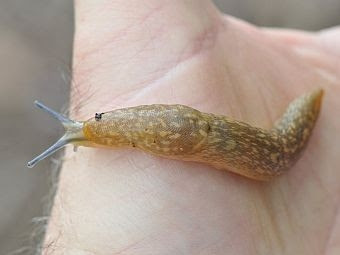 The weather is always variable no matter where you live, but some pests seem to always be there. If you live where the weather can be cool and wet, you know about slugs and snails. They're most prevalent in the East and on the West Coast. While we know their damage on seedlings, often munching young carrot tops and other sprouts to the ground over night, they also attack larger plants. If you notice small holes in your hosta leaves, it's probably slug activity. These small holes will get larger as the leaf grows. It may seem like a big insect is attacking the mature leaves, but it's most likely slug and snail damage from spring on the young leaves.
To control slugs and snails think about the environment they like. They thrive in cool, moist, dark conditions. Remove mulch from around susceptible p
lants and cultivate the soil frequently. Adding sharp materials around plants may ward them off too. Try crushed seashells, oyster shells and egg shells. Even sharp sand and wood ashes may work.
There are always beer traps to try, but watch out if you have dogs. They will like a drink, too! Attaching copper strips to the top of a raised bed or container wards off slugs. They get a shock when they try to cross the barrier. The best method is using and organic iron phosphate bait such as Sluggo. Iron phosphate is toxic to slugs but doesn't hurt wildlife.
Watch my video on slug controls for more ideas.
We all know the importance of pollinators to our food system and environment. You can read more about pollinators and attracting them to your garden earlier in my newsletter. Every little bit counts. That's why more than 30 organizations, such as the National Wildlife Federation and Kidsgardening.org, have formed the National Pollinator Garden Network and created the Million Pollinator Garden Challenge. The idea is to encourage public and private gardeners and groups to plant a pollinator garden this summer. It's not just for the bees, butterflies, birds and insects, but also an educational tool to talk about and teach the importance of pollina
tors in our world to anyone who's interested.
These gardens can be grown anywhere; from in your yard and containers, to schools, senior centers, public gardens and civic gardens. The more the better, for us and the pollinators. There's even an interactive map where you can see who else is growing pollinator gardens in your area.
Check out the Million Pollinator Garden Challenge and sign up today!
Save Save Save Save Save Save Save Save Save Save Save Save Save Save Save Save Save Save Save Save Save Save Save Save Save Save Save Save Save Save Save Save Save Save Save Save
Save
Save
Save
Save
Save
Save
Save
Save
Save
Save
Save
Save
Save
Save
Save
Save
Save